Solidworks Fans Solidworks India Community
Friday, October 8, 2010
Who's using SolidWorks? Lots of people. In fact, over 1,000,000 of them. You'll find SolidWorks products in use at Fortune 500 companies, single proprietorships, and everywhere in between.
We tend to use SolidWorks the way we have for years and not tap into the new features that are released with the newest version. www.fans.solidworks.in is one of the first site of its kind dedicated to helping SolidWorks users stay up to date with all the aspects of the software.
The SolidWorks website contains a lot of information for the SolidWorks community of users.
This website is related to CAD/CAM/3D/ANIMATION/SOLIDWORKS . There is Design Central section where designers can post their designs, comment on the other designs and rate the design according to their liking. Zoom facility for the design makes the design more clear. Also there are n no. of experts for suggesting any improvements and new ideas. In Discussion Lounge designers can query any topic and get their doubts clarified by Experts from all over.
Some snapshots are here:
1.
We can give ratings to the design.
2.
By using zoom feature we can see the design clearly.
Features like comment on design, share the design with your friends on facebook, Add to favorite the design are the interesting features.
Forums like Design Central(for Design), Discussion Lounge(for Discussion), Learning center will keep your knowledge up to date.
The Tips n Tricks, Learning Centre, Games & Contests, etc and the company of likeminded individuals will keep you informed, inspired and equipped to draw out that next spark of innovation!
All of the features on this site require the user to log into site which is absolutely free.
Thus this SolidWorks site is dedicated to providing engineers, designers and other creative professionals the proper platform to show their skill.
You can join here just by using one mail address within 2 minutes!
Your feedback is important for us.
Company Profile:
Dassault Systemes SolidWorks Corp. is the leader in 3D CAD technology. At SolidWorks we're dedicated to providing engineers, designers and other creative professionals with the tools they need to design the world's greatest products.
Founded
Headquarters
Concord, Massachusetts, USA
Ownership
Acquired in 1997 by Dassault Systemes S.A.* based in Velizy, France the world's leading developer of product lifecycle management solutions
Markets Served
Industrial, medical, scientific, consumer, educational, technology, and transportation s
Customers
More than 750,000 product designers and engineers worldwide
Labels: solidworks fans
Permalink
posted by Admin @ 6:46 PM


SolidWorks 2010 No Experience Required Book By Alex Ruiz- Product Review
Tuesday, August 17, 2010
SolidWorks 2010: No Experience Required [Paperback] By
Alex Ruiz
Editorial Reviews
Product Description
The only continuous, step-by-step tutorial for SolidWorks
SolidWorks is a 3D CAD manufacturing software package that has been used to design everything from aerospace robotics to bicycles. This book teaches beginners to use SolidWorks through a step-by-step tutorial, letting you build, document, and present a project while you learn.
Tools and functionality are explained in the context of professional, real-world tasks and workflows. You will learn the essential functions and gain the skills to use the software at once.
SolidWorks is a popular design software for manufacturing, and this book introduces it in the context of actually creating an object

Begins with an overview of SolidWorks conventions and the interface

Explains how to create models and drawings, create a revolved part and subassembly, and model parts within a subassembly

Explores modification capabilities and drawing and Bill of Materials templates

Moves on to top-level assembly models and drawings, Toolbox components and the Design Library, mates, export and printing capabilities, and creating renderings

Includes a glossary, a foreword from the SolidWorks product manager, and downloadable tutorial files
SolidWorks 2010: No Experience Required quickly turns beginners into confident users of SolidWorks.
From the Back Cover
SolidWorks 2010: No Experience Required is the perfect hands-on, step-by-step introduction to this very popular 3D CAD software. Through a continuous, easy-to-follow tutorial, you'll learn SolidWorks by planning and developing a desk lamp, from modeling to drawing to creating the Bill of Materials. Follow the tutorial sequentially or jump in at any chapter by downloading the drawing files from www.sybex.com/go/solidworks2010ner. Either way, you'll get a thorough grounding in SolidWorks and see real progress as you quickly master tasks and create a final, presentation-worthy rendering of your design.
Create your first part, the lamp base, and use Instant3D to improve productivity

Add dimensions, tolerances, and a detailed view—and produce your first drawing

See how to create a revolved part with threading as you make the lamp's shaft

Model a plastic washer and learn how to create an assembly from a part

Examine Bills of Materials (BOMs), build one, and add item balloons

Design a lampshade, add components from the Design Library, and create an exploded view

Put it all together and produce a top-level assembly drawing

Apply materials and environment and create a stunning rendering
Create 2D drawings that tell the whole story
Make stunning photo-realistic renderings of your designs
Labels: Solidworks 2010 Book
Permalink
posted by Admin @ 11:35 PM


Registration Now Open for SolidWorks World 2011
Tuesday, July 27, 2010
SolidWorks World 2011-
S
an Antonio, Texas, USA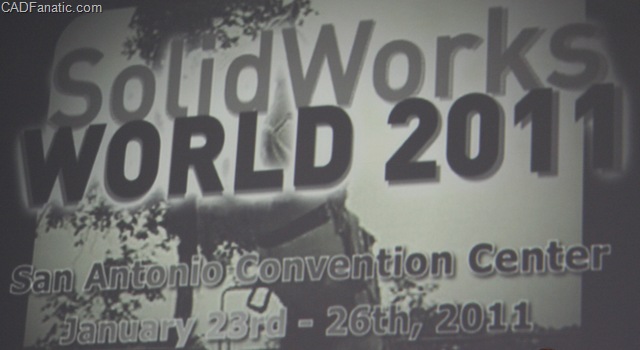 Registration Now Open!
Join us for SolidWorks World 2011 being held January 23-26, 2011 at the Henry B. Gonzalez Convention Center, San Antonio, Texas, USA.
Be sure to register early and save with our Early Bird rates. Save $200 off a full conference registration when you register by the first Early Bird deadline, October 29, 2010.
Visit www.solidworks.com/swworld for up-to-date information about SolidWorks World 2011.
Interested in presenting at SolidWorks World 2011? Submit a presentation for consideration today!
We look forward to seeing you in San Antonio.
- The SolidWorks World Planning Committee.
Labels: Solidworks world 2011
Permalink
posted by Admin @ 7:39 AM


Draftsight from 3ds - A better way to read, write and share DWG files
Friday, July 2, 2010
DraftSight is a professional-grade, open 2D CAD product for users who want a better way to read, write and share DWG files. DraftSight is easy to use and is available for professional CAD users, students and educators to download and activate for free.

Based on advanced architecture, DraftSight has a small footprint, should take less that a few minutes to download, and runs on multiple operating systems, including Windows XP®, Windows Vista® and Windows® 7.

Download free software and start working with your DWG files. Then start sharing, connecting and interacting with the 3DSwYm DraftSight™ community members.

DraftSight Features

DraftSight™ was built with CAD users in mind and includes:

User Environment & Features
* Cartesian coordinate system
* Layers & layer manager
* Background masks for notes
* Command line input
* ViewPort locking
* Property manager
* Dynamic pan & zoom
* Polygonal ViewPorts
* Traditional toolbars and menus
* Wheel-mouse pan & zoom
* Freeze, lock or turn off layers per ViewPort
* Blocks & reference files
* View proxy objects
* Command aliases
* Menu files
* CTB and STB print style tables
* SHX and TTF fonts
* LineStyle files
* Hatch pattern files
* Templates

Interoperability
* Read and write support for DWG/DXF files*
* Save DWG/DXF files back to previous versions*
* Print to file (.plt, .jpg, .pdf, .png, & .svg)
* Attach image files (.bmp, .gif, .jpg, .jpeg, .png, .tif, & .tiff)
* Attach external reference drawings
* Create binary or ASCII DXF files*
* Save as .wmf, .jpeg, .pdf, .png, .sld, .svg, .tif, & .stl file formats
* Publish to eDrawings or Drawings Now
* Multi-page PDF creation

Productivity Enhancers
* Consolidated options dialog
* Home palette
* Quick print
* Enhanced, easy to read, command prompts
* Smart calculator
* Context sensitive help
Setup and Administration
* Support for Windows®, Mac & Linux operating systems
* Customizable interface: command aliases, double-click actions, menus, right-click menus, shortcut keys, toolbars, etc.
* Quick and free to download
* Fast "one-click" installation
* Multi-language character set support including Unicode fonts

Entities
* Arcs, circles, & lines
* Points & rings
* Solid & gradient Fill
* Notes & SimpleNotes
* Hyperlinks
* Dimensions: Arc length, radius, diameter, baseline, linear, ordinate, etc.
* Tables
* ViewPorts
* Blocks and BlockAttributes
* Masks & region
* Ellipses & elliptical arcs
* ISO, ANSI & Traditional Hatch patterns
* Tolerances, Leaders & CenterMarks
* RichLines, PolyLines, 3D PolyLines, & Splines

Drafting Tools
* Snap & Grid
* Double-click editing
* Select entities using filters, SmartSelect, or by window, crossing window, crossline, polygonal window, etc.
* Chamfer & Fillet
* Undo/Redo
* Tracking guides & Polar guides
* EntityGrips, EntitySnaps, Entity
* Get area, distance, or coordinates information
* InfiniteLines, Rays & Reference Points

Drawing Setup Tools
* Customizable coordinate system
* Points format
* Multiple layout
* RichLine styles
* Text Styles
* Dimension styles
* Layer manager
* Unit system
* Named page layouts
* Table styles

Edit Tools
* Move, scale & rotate
* Edit blocks in-place or isolate for edit
* Modify Hatch and fill pattern, origin, etc
* Stretch & change length
* Mirror, copy, offset and pattern copy
* Open reference drawings from within the base drawing
* Edit note properties: direction, justification, line spacing, text height, TextStyle, etc.
* Trim & extend
* Split & weld
* Clip references and images
Labels: Draftsight
Permalink
posted by Admin @ 8:13 AM


SolidWorks Add-in to Upload Directly to Shapeways
Thursday, July 1, 2010
SolidWorks users can now upload their files directly to Shapeways thanks to a proprietary add-in developed by Design Solutions and Shapeways, making it easier than ever for SolidWorks users to turn their 3D designs into physical objects.
SolidWorks users simply need to download the free BETA add-in from Design Solutions:
1) Install the Shapeways add-in,
2) Open a model in SolidWorks,
3) Login to Shapeways, and
4) Save to Shapeways.
This will automatically convert the model to STL format (as defined by the user settings in SolidWorks) and upload it to "My Designs" in your Shapeways account. The tool will also prompt users to enter any tags, provide a description and select whether the model is for sale or display only.(you will need to agree to Shapeways terms and conditions on the Shapeways site once it is uploaded). As mentioned this is the BETA version which should be replaced with the second iteration in 6-8 weeks so please do provide us with any feedback you have in this time so we can improve the add-in so we can use this to improve functionality.

Step 1. Download and the add-in from Design Solutions for either 32 or 64 bit and run the installer. You will need to make SolidWorks is NOT running and then run the reg.MS-DOS Batch File in the Shapeways Folder now installed in your Program Files.
Step 2. Now you can boot up SolidWorks select Tools>Add-Ins then scroll down and select Shapeways for SolidWorks. If you tick both the Active Add-Ins ans Start Up then this add-in will be ready to go every time you fire up SolidWorks.
Step 3. Open or create a SolidWorks Part file (I will discuss a workaround for assemblies later) making sure it is a solid body part as surfaces will not be uploaded. If there is a combination of surfaces and solids in your part, only the solids will be uploaded, if there are only surfaces you will not be able to upload.
You will be asked to log in to your Shapeways account using your user name and password. (You should only need to do this once per SolidWorks session, If you don't have a Shapeways account, go to register with Shapeways). From there you will be prompted with the Save Dialog where you can enter File Name, Description and Tags, along with whether the model is 'only for viewing' (not for sale).
You will get an upload successful dialog box followed by the usual emails from Shapeways confirming your upload then either informing you it is ready to print, or the dreaded 'there is a problem'...

Step 4. Once you have uploaded all of your SolidWorks files you can then log into Shapeways to see them in My Designs, here you will need only to confirm that the design is your work, and that Shapeways is granted license to print the model as per usual Shapeways terms and conditions.
EASY.... A few side points to consider:

IF you want to upload a SolidWorks Assembly simply Save As a Part File specifying All Components (exterior components may work with the loss of data and exterior faces did not work at all for me) then use the Shapeways Add-In to upload it.

The Shapeways Add-in applies the users STL settings to generate the file uploaded so if you need to decrease your poly count adjust there as usual.

The STL file is NOT saved anywhere on your computer, if this is an issue for some reason you will have to do this manually.

Please do give us feedback on the functionality, if you come across any issues, we will be looking to update it in six to eight weeks. Also this has not yet been tested in any student edition where I doubt that it will work (but very happily proved wrong).
Courtesy:Duann From shapeworks
Labels: shapeworks
Permalink
posted by Admin @ 6:33 AM


A Commands Guide Tutorial for SolidWorks 2010- David Planchard & Marie Planchard
Sunday, November 22, 2009
A Commands Guide Tutorial for SolidWorks 2010- David C.Planchard & Marie P.Planchard
The Commands Guide Tutorial for SolidWorks 2010 is a comprehensive reference book written to assist beginner to intermediate users of SolidWorks. SolidWorks is an immense software package, and no one book can cover all topics for all users. The book provides a centralized reference location to address many of the System and Document properties, FeatureManagers, PropertyManagers, ConfigurationManagers and RenderManagers along with 2D and 3D Sketch tools, Sketch entities, 3D Feature tools, Motion Study, SustainabilityXpress, DFMXpress, SimulationXpress, Sheet Metal, PhotoView 360 and more.

Chapter 1 provides a basic overview of the concepts and terminology used throughout this book using SolidWorks 2010 software. If you are completely new to SolidWorks, you should read Chapter 1 in detail and complete Lesson 1, Lesson 2 and Lesson 3 in the SolidWorks Tutorials.

If you are familiar with an earlier release of SolidWorks, you still might want to skim Chapter 1 to become acquainted with some of the commands, menus and features that you have not used; or you can simply jump to any section in any chapter.

Each chapter (17 total) provides detailed PropertyManager information on key topics with individual stand alone short tutorials to reinforce and demonstrate the functionality and ease of the SolidWorks tool or feature. All models for the 230 plus tutorials are located on the enclosed CD with their solution (initial and final). Learn by doing, not just by reading!

Formulate the skills to create, modify and edit sketches and solid features. Learn the techniques to reuse features, parts and assemblies through symmetry, patterns, copied components, design tables, configurations and more.

The book is designed to compliment the Online Tutorials and Online Help contained in SolidWorks 2010. The goal is to illustrate how multiple design situations and systematic steps combine to produce successful designs.

The authors developed the tutorials by combining their own industry experience with the knowledge of engineers, department managers, vendors and manufacturers. These professionals are directly involved with SolidWorks everyday. Their responsibilities go far beyond the creation of just a 3D model.


Table of Contents

Introduction
1. Quick Start
2. SolidWorks System Options
3. SolidWorks Document Properties
4. Design Intent, Sketching and Sketch Entities
5. Sketch Tools, Geometric Relations and Dimensions/Relations tools
6. Extruded Boss/Base, Extruded Cut, Fillet and Cosmetic Features
7. Revolved, Simple Hole, Hole Wizard and Dome Features
8. Shell, Draft and Rib Features
9. Pattern and Mirror Features
10. Swept, Loft, Wrap and Flex Features
11. Bottom-Up Assembly Modeling and more
12. Top-Down Assembly Modeling and more
13. 2D Drawings and eDrawings
14. Sheet Metal
15. PhotoView 360
16. SolidWorks Design Library, Explorer, Toolbox and Measure tool
17. SimulationXpress & SustainabilityXpress


About the Author

David Planchard is the Founder of D&M Education LLC. Before starting D&M Education, he spent over 27 years in industry and academia holding various engineering, marketing, and teaching positions and degrees. He holds five U.S. patents and one International patent. He has published and authored numerous papers on Machine Design, Product Design, Mechanics of Materials, and Solid Modeling. He is a member of the New England Pro/Users Group, New England SolidWorks Users Group, and the Cisco Regional Academy Users Group. David holds a BSME, MSM and a Certified SolidWorks Associate (CSWA) Certification. David is a SolidWorks Solution Partner and an Adjunct at Worcester Polytechnic Institute.

Marie Planchard is the Director of World Education Markets at SolidWorks Corporation. Before she joined SolidWorks, Marie spent over 10 years as an engineering professor at Mass Bay College in Wellesley Hills, MA. She has 14 plus years of industry software experience and held a variety of management and engineering positions. Marie holds a BSME, MSME and a Certified SolidWorks Professional (CSWP) Certification. She is an active member of the American Society of Mechanical Engineers (ASME) and the American Society for Engineering Education (ASEE).
Labels: Solidworks 2010 Book
Permalink
posted by Admin @ 8:48 PM


Solidworks Innovation Day 2009-Solidworks 2010 Launch Event
Saturday, September 12, 2009
SolidWorks Innovation Day 2009 - Solidworks 2010 Launch Event in Chennai,Tamilnadu,India
Solidworks 2010-Faster,Smarter,Rock Solid



Solidworks is glad to invite you all to attend Solidworks Innovation Day 2009.
Built on 14 years of give and take with the now one million-strong SolidWorks community, SolidWorks software provides designers, engineers, and other creative professionals with all of the tools they need to design great products.
1.Design creation, validation, documentation, management, and environmental impact analysis as a single streamlined process.
2.A simple design experience from the first sketch line to the finished 3D model.
3.The ability to work smarter and faster with power packed into every feature.
4.Rock-solid reliability in every phase of your work.
5.Strong bonds with the growing SolidWorks community.

At This Event Learn about the new solidworks 2010 product line and how it can boost your Design Productivity.Work Smarter and Faster and improve your success.This event is designed for new and current users of solidworks Products.



Date: Wednesday 16th September 2009.





Venue:

Hotel GRT Grand Thyagaraya Road, T.Nagar, Chennai
600083





Time: 9:30 AM-13:00 PM





For all the other outstation CAD users check the appropriate dates and register for Solidworks Innovation Day 2009.



Register Now

For enquiries please contact our Sponser at +91

9003079303
or email to admin@solidworksguru.com

Labels: Solidworks Innovation Day 2009
Permalink
posted by Admin @ 12:14 PM


About Me
Name: Admin
Location: Chennai, Tamilnadu, India
About Me: Lead Design Engineer,


Previous Post
Archives
Solidworks Resources
Worth a Look