Registration Now Open for SolidWorks World 2011
Tuesday, July 27, 2010
SolidWorks World 2011-
S
an Antonio, Texas, USA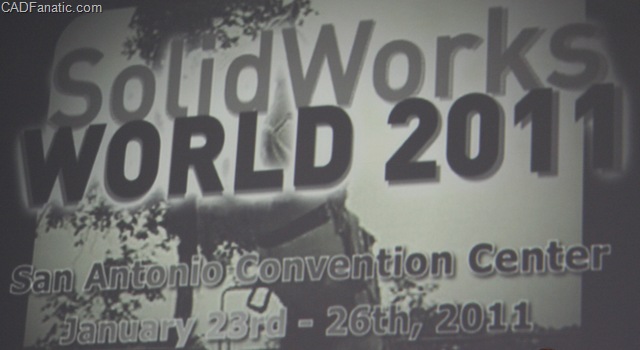 Registration Now Open!
Join us for SolidWorks World 2011 being held January 23-26, 2011 at the Henry B. Gonzalez Convention Center, San Antonio, Texas, USA.
Be sure to register early and save with our Early Bird rates. Save $200 off a full conference registration when you register by the first Early Bird deadline, October 29, 2010.
Visit www.solidworks.com/swworld for up-to-date information about SolidWorks World 2011.
Interested in presenting at SolidWorks World 2011? Submit a presentation for consideration today!
We look forward to seeing you in San Antonio.
- The SolidWorks World Planning Committee.
Labels: Solidworks world 2011
Permalink
posted by Admin @ 7:39 AM


Draftsight from 3ds - A better way to read, write and share DWG files
Friday, July 2, 2010
DraftSight is a professional-grade, open 2D CAD product for users who want a better way to read, write and share DWG files. DraftSight is easy to use and is available for professional CAD users, students and educators to download and activate for free.

Based on advanced architecture, DraftSight has a small footprint, should take less that a few minutes to download, and runs on multiple operating systems, including Windows XP®, Windows Vista® and Windows® 7.

Download free software and start working with your DWG files. Then start sharing, connecting and interacting with the 3DSwYm DraftSight™ community members.

DraftSight Features

DraftSight™ was built with CAD users in mind and includes:

User Environment & Features
* Cartesian coordinate system
* Layers & layer manager
* Background masks for notes
* Command line input
* ViewPort locking
* Property manager
* Dynamic pan & zoom
* Polygonal ViewPorts
* Traditional toolbars and menus
* Wheel-mouse pan & zoom
* Freeze, lock or turn off layers per ViewPort
* Blocks & reference files
* View proxy objects
* Command aliases
* Menu files
* CTB and STB print style tables
* SHX and TTF fonts
* LineStyle files
* Hatch pattern files
* Templates

Interoperability
* Read and write support for DWG/DXF files*
* Save DWG/DXF files back to previous versions*
* Print to file (.plt, .jpg, .pdf, .png, & .svg)
* Attach image files (.bmp, .gif, .jpg, .jpeg, .png, .tif, & .tiff)
* Attach external reference drawings
* Create binary or ASCII DXF files*
* Save as .wmf, .jpeg, .pdf, .png, .sld, .svg, .tif, & .stl file formats
* Publish to eDrawings or Drawings Now
* Multi-page PDF creation

Productivity Enhancers
* Consolidated options dialog
* Home palette
* Quick print
* Enhanced, easy to read, command prompts
* Smart calculator
* Context sensitive help
Setup and Administration
* Support for Windows®, Mac & Linux operating systems
* Customizable interface: command aliases, double-click actions, menus, right-click menus, shortcut keys, toolbars, etc.
* Quick and free to download
* Fast "one-click" installation
* Multi-language character set support including Unicode fonts

Entities
* Arcs, circles, & lines
* Points & rings
* Solid & gradient Fill
* Notes & SimpleNotes
* Hyperlinks
* Dimensions: Arc length, radius, diameter, baseline, linear, ordinate, etc.
* Tables
* ViewPorts
* Blocks and BlockAttributes
* Masks & region
* Ellipses & elliptical arcs
* ISO, ANSI & Traditional Hatch patterns
* Tolerances, Leaders & CenterMarks
* RichLines, PolyLines, 3D PolyLines, & Splines

Drafting Tools
* Snap & Grid
* Double-click editing
* Select entities using filters, SmartSelect, or by window, crossing window, crossline, polygonal window, etc.
* Chamfer & Fillet
* Undo/Redo
* Tracking guides & Polar guides
* EntityGrips, EntitySnaps, Entity
* Get area, distance, or coordinates information
* InfiniteLines, Rays & Reference Points

Drawing Setup Tools
* Customizable coordinate system
* Points format
* Multiple layout
* RichLine styles
* Text Styles
* Dimension styles
* Layer manager
* Unit system
* Named page layouts
* Table styles

Edit Tools
* Move, scale & rotate
* Edit blocks in-place or isolate for edit
* Modify Hatch and fill pattern, origin, etc
* Stretch & change length
* Mirror, copy, offset and pattern copy
* Open reference drawings from within the base drawing
* Edit note properties: direction, justification, line spacing, text height, TextStyle, etc.
* Trim & extend
* Split & weld
* Clip references and images
Labels: Draftsight
Permalink
posted by Admin @ 8:13 AM


SolidWorks Add-in to Upload Directly to Shapeways
Thursday, July 1, 2010
SolidWorks users can now upload their files directly to Shapeways thanks to a proprietary add-in developed by Design Solutions and Shapeways, making it easier than ever for SolidWorks users to turn their 3D designs into physical objects.
SolidWorks users simply need to download the free BETA add-in from Design Solutions:
1) Install the Shapeways add-in,
2) Open a model in SolidWorks,
3) Login to Shapeways, and
4) Save to Shapeways.
This will automatically convert the model to STL format (as defined by the user settings in SolidWorks) and upload it to "My Designs" in your Shapeways account. The tool will also prompt users to enter any tags, provide a description and select whether the model is for sale or display only.(you will need to agree to Shapeways terms and conditions on the Shapeways site once it is uploaded). As mentioned this is the BETA version which should be replaced with the second iteration in 6-8 weeks so please do provide us with any feedback you have in this time so we can improve the add-in so we can use this to improve functionality.

Step 1. Download and the add-in from Design Solutions for either 32 or 64 bit and run the installer. You will need to make SolidWorks is NOT running and then run the reg.MS-DOS Batch File in the Shapeways Folder now installed in your Program Files.
Step 2. Now you can boot up SolidWorks select Tools>Add-Ins then scroll down and select Shapeways for SolidWorks. If you tick both the Active Add-Ins ans Start Up then this add-in will be ready to go every time you fire up SolidWorks.
Step 3. Open or create a SolidWorks Part file (I will discuss a workaround for assemblies later) making sure it is a solid body part as surfaces will not be uploaded. If there is a combination of surfaces and solids in your part, only the solids will be uploaded, if there are only surfaces you will not be able to upload.
You will be asked to log in to your Shapeways account using your user name and password. (You should only need to do this once per SolidWorks session, If you don't have a Shapeways account, go to register with Shapeways). From there you will be prompted with the Save Dialog where you can enter File Name, Description and Tags, along with whether the model is 'only for viewing' (not for sale).
You will get an upload successful dialog box followed by the usual emails from Shapeways confirming your upload then either informing you it is ready to print, or the dreaded 'there is a problem'...

Step 4. Once you have uploaded all of your SolidWorks files you can then log into Shapeways to see them in My Designs, here you will need only to confirm that the design is your work, and that Shapeways is granted license to print the model as per usual Shapeways terms and conditions.
EASY.... A few side points to consider:

IF you want to upload a SolidWorks Assembly simply Save As a Part File specifying All Components (exterior components may work with the loss of data and exterior faces did not work at all for me) then use the Shapeways Add-In to upload it.

The Shapeways Add-in applies the users STL settings to generate the file uploaded so if you need to decrease your poly count adjust there as usual.

The STL file is NOT saved anywhere on your computer, if this is an issue for some reason you will have to do this manually.

Please do give us feedback on the functionality, if you come across any issues, we will be looking to update it in six to eight weeks. Also this has not yet been tested in any student edition where I doubt that it will work (but very happily proved wrong).
Courtesy:Duann From shapeworks
Labels: shapeworks
Permalink
posted by Admin @ 6:33 AM


About Me
Name: Admin
Location: Chennai, Tamilnadu, India
About Me: Lead Design Engineer,


Previous Post
Archives
Solidworks Resources
Worth a Look